Posts Tagged 'Sugar Bear'
Posted by Gord Tep on March 27th, 2010
Posted by Ham City Kev on August 19th, 2009
TONY THE TIGER vs SUGAR BEAR
Ah, Tony. One of the most beloved–and misunderstood–cereal mascots of all time. Most people would be quick to put their money on Tony winning this one because after all, he's the best at all sports, right? Wrong. Go onto youtube and watch those commercials again. Tony typically finds a kid who sucks at sports, accepts a challenge on their behalf (seriously Tony, shut the fuck up!), gives them his cereal and then gets an assist on whatever it is the schmuck kid wins. The key word in the last sentence is "assist." Tony never wins shit!
Sugar Bear, on the other hand, will beat the shit out of any creature on gods green earth–while high.
WINNER: SUGAR BEAR
CAP'N CRUNCH vs FRANKENBERRY

Let's get right to the point, shall we? The big question in this one is whether or not Frankenberry is strong enough to handle all the tricks the Cap'n has stored under his hat (sometimes literally). Frankenberry is a pretty thick guy–however in past commercials it is always shown that he has the courage of a squirrel. Frankenberry also loses points for losing his lifelong battle with his arch-rival Count Chocula (you don't see Frankenberry for sale anymore, do you?). Not to mention, and let's be honest here, pink isn't exactly a masculine color.
Cap'n Crunch, meanwhile, has been around for over forty years foiling Soggies, Pirates, bad times, and whatever other antagonists come his way. He's bound to know a trick or two to defeat Frankenberry, like hitting him in the teeth with an anchor, for example.
WINNER: CAP'N CRUNCH
TRIX RABBIT vs SONNY THE CUCKOO BIRD
Holy fuck, it's just mean to pair these two up against eachother. A full-blown addict vs a recovering addict. Here's how I see it playing out…
Rabbit asks Sonny to get him some Trix. Sonny politely declines, telling Rabbit that he's trying to stay off cereal. Rabbit promises Cocoa Puffs for Sonny if he could score some Trix for him, Sonny again refuses, angrier than before. Rabbit persists, eventually causing Sonny to cave, as usual. Sonny goes Cuckoo for Cocoa Puffs, manically bounces around town for a few hours, and crashes hard in an alley somewhere. At no point does Sonny remember to score Trix for Rabbit.
Sonny wakes up hungover, hangs his head, and checks back into rehab. When he leaves rehab and goes back to his apartment (nest?) he finds Rabbit waiting for him, and Rabbit is none too happy. When Sonny can't produce the Trix, Rabbit breaks his leg. Rabbit tells Sonny he's got 24 hours to make good on the deal or else the next beating will be worse. Sonny contacts some old friends, looking for Trix, but is unsuccessful–because as we all know: Trix are for kids. With an hour to go before his deadline, Sonny panicks and grabs a Malt-o-Meal knockoff, hoping Rabbit wont notice once it's in the bowl.
Now, I'm a fan of Malt-o-Meal. In general, the difference between them and the big wigs is minimal. Rabbit, on the other hand, doesn't fuck around when it comes to Trix.
Sonny is found later that afternoon on the sidewalk, a victim of an apparent slip-and-fall off a roof.
WINNER: TRIX RABBIT
COUNT CHOCULA vs LUCKY THE LEPRECHAUN

Now we're getting into the supernatural (as if murderous, talking, cartoon mascots weren't enough). The leprechaun vs the vampire. Count Chocula could potentially take everyone on this list, what with being impervious to violence, the ability to turn into a bat, heightened strength and sesnses, whatever it is you believe a vampire does. Technically he should have no problem with a little shrimp like Lucky, right?
Wrong! This fight is practically a fucking no-contest! Lucky is a magical leprechaun! If Chocula goes after him, all Lucky has to do is conjure up a yellow sun to burn up his vampire ass, am I right?
Disagree? How do you think Lucky came up with THIS CEREAL? Because he annihilated Count Chocula and stole his legacy, that's why.
WINNER: LUCKY THE LEPRECHAUN
Posted by Gord Tep on June 27th, 2009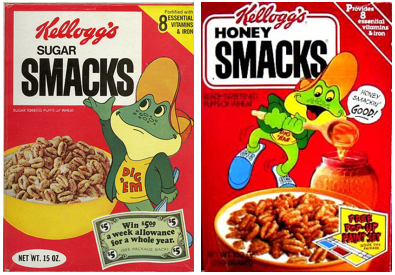 Gord and Kev remember famous food mascots.
After listening to the show, check out our Episode 3 video playlist on YouTube!