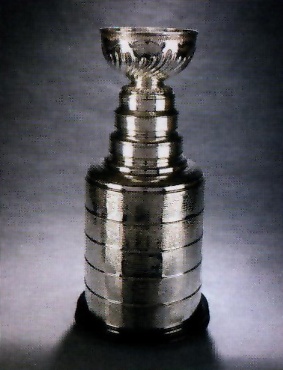 The 2010-2011 NHL Stanley Cup Playoffs start tomorrow, and I felt it would be appropriate to post my picks here on GordTep.com. In the interest of full disclosure, I'm a die-hard Ranger fan, but I am not letting that influence my predictions. The following predictions are based on countless hours of my life that I wasted all season, watching hockey games and reading up on all of the teams — and, of course, whatever my gut tells me will happen over the course of the next two months. I'm sure I should have some "forward looking statements" line to cover myself in case you put money on the teams I suggest will win. However, if you do win based on my calls, I want a cut.
To be fair, a vast majority of the games to which I? buy sports cards and? watch were strictly Eastern Conference match ups. So I will not be posting a detailed analysis of the West. While I don't want to sell myself short and dismiss my Western picks as being devoid of value or substantive research, I just feel it's best to simply post the result without a detailed analysis as they are more superficially selected than my Eastern predictions. So here's what I've got for the first round.
Capitals vs. Rangers
Despite struggles chronicled in the HBO 24/7 specials, Washington actually had a heck of a year. However, New York really seemed to have them figured out. The 8-seed Rangers won the season series 3-1 against the Caps, which included 6-0 & 7-0 debacles. I see Henrik Lundqvist and Marc Staal shutting down Ovechkin, and Gaborik & Drury scoring when it counts the most. Rangers in 6
Flyers vs. Sabres
The Flyers have been in disarray as of late, but they're too talented to get bumped out by Buffalo. The wild card for Buffalo is Ryan Miller because he is so much better than every goaltender the Flyers have. We also don't know what factor Chris Pronger will play in this series for Philadelphia. While many others are open to an upset, I just don't see it. Look for Briere to light the lamp at will against his former team. Flyers in 5
Bruins vs. Canadiens
These two teams have a storied rivalry that dates back to the Original 6 days, and we saw it reach new heights this season. Massive brawls that included goalie fights and suspensions will no doubt weigh heavily on the minds of both teams as they enter what will surely be a physically draining series. Though Tim Thomas had a phenomenal year statistically, I simply don't see him as an elite goaltender and consider him on the same level as Carey Price. With that being said, I think the Bruins are a better team overall and that Zdeno Chara will log tons of ice time as the determining factor in what will surprisingly be a short series. Bruins in 5
Penguins vs. Lightning
Dan Bylsma is the consensus favorite for Coach of the Year based on how high the Pens managed to finish with all of their key injuries. The very fact that they were able to accomplish so much without Crosby and Malkin for extended periods of time really is quite remarkable, but I think Pittsburgh's run ends in the first round. Tampa's thrashing of Carolina on the last day of their season, in what was essentially a meaningless game, showed the synergy and fire this team has heading into the postseason. Lecavalier, Stamkos, St. Louis, and company will surely upset the Penguins. Lightning in 6
Canucks vs Blackhawks – Canucks in 5
Sharks vs. Kings – Sharks in 4
Red Wings vs Coyotes – Red Wings in 4
Ducks vs. Preds – Ducks in 7
The NHL reseeds after each round so the following picks may be completely out of whack depending on who advances past the first round. That is, I could theoretically pick two teams to advance to the Conference Final that would actually play each other in the Conference semi-final should I fail to predict the other two series correctly. In any event, here's a quick rundown of what I see transpiring the rest of the way.
Round 2:
Flyers over Rangers in 5
Bruins over Lightning in 6
Canucks over Ducks in 5
Wings over Sharks in 7
Conference Finals:
Flyers over Bruins in 6
Wings over Canucks in 7
Stanley Cup Finals:
Wings over Flyers in 5
If my Rangers are still alive after the first round, I might revisit my picks with a follow-up blog to provide some detail for how I believe the ensuing rounds will go. In any event, I see Detroit adding to their overwhelming amount of Championships with yet another this June. I hope I'm wrong though and it's actually Rangers in 7!